First of all I have for you...two new wipe containers I made. I am pretty proud of them, since they are my 2nd and 3rd attempts at Cricut vinyl. I am sure it gets better and better!!! I only have brown and black, and need to find a good resource to buy more vinyl colors. A friend asked about me selling these, so I made her some, Brown and pink for Ella and Black and red for Eli, two babies she adopted. Like I said, I only had brown/black, so I used permanent markers and colored in the middle of the outline font on All Mixed Up. I like how it turned out. We'll wait and see how durable it is. :)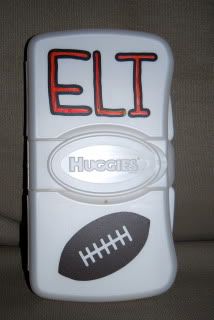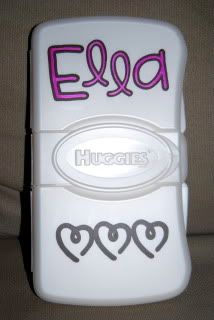 Next I have a pic of my poor baby's boo boos from shots. [**pause a moment and say to yourself, "Aww, poor bebe"...now moving on...]
Tonight, my gal pal Melissa (one of the teens in our youth group) came over and we each made Father's Day cards (wallet cards). Thank you BrensDesigns for the idea and cut files. :) Great work! You can get the cut files off her blog here...http://www.brensdesigns.com/ She does wonderful work!!! I had to make two, one for my dad and one for my FIL. I used chocolate ink to add effect to the embossed outside. I put a real dollar (we have a real gift too) in and made "credit cards" for us each to write a note...one for Jon, one for me and one for Jonas. :) The last card says Happy Father's Day. I put some Studio G $1 stamps on each of the "credit cards." I think they turned out nicely.
Here are the cupcakes (and Brad and Addie) I made for our birthday bash....Brad+Addie=Braddie, thus the "Happy Birthday Addie". Just cut the letters out at 3 inches from Opposites Attract font on my cricut and stuck them in the cupcakes. Turned out nicely I think.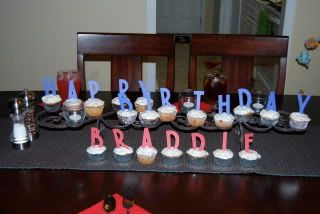 This is Addie's gift...it was a set of 10 notecards I made for her inside a 2 liter bottle. Another idea from the Cricut messageboard. :) Love that place!!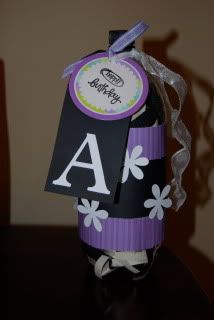 This was my first weld on design studio, I made Jonas' name with a whale (paisley from stretch your imagination, and spout from accent essentials). It is okay, needs some tweaking, but I thought it was cute, for no longer than it took me.
Here's another cute pic of Jonas from today...
I think that about covers it for tonight!! Thanks for checking my blog, and as always, I love reading your comments, so please show some love!!!
Goodnight for now, we have a yard sale in the morning, so I need to get in bed asap. It is already 11, and we are LEAVING at 6:15 to head to the church. All proceeds go to help our teens get to camp. I am praying for good weather (they are calling for rain), a good turnout, and lots of profit!! :) Here's hoping and praying! Tomorrow night, we are having dinner with my future sister in law. I don't know her well since she lives in Mt. Dora, near Orlando, and I've only seen her twice. So I am looking forward to spending some time with her and getting to know Jonas' aunt. :)
**Anyone know a faster photo uploading site? Photobucket takes FOREVER on my computer....
XOXOXOX!
Meredith...aka, Merdybug